It's a little early, but they already opened it, so I'm sharing :) I've found some great blogs so far from this Blog Hop :)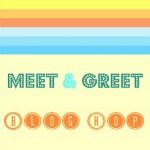 If you want the details, click to Read More :) (Quoted from
2 just B you's Blog
)
Sunday/Monday Meet & Greet is HERE!!!
Welcome back to the Meet & Greet Blog Hop!
We would like to invite you to join in, meet some fellow Bloggers, greet them with comments and watch your blog grow with new friends!
Here's how it works:
* Start by following the three hosts, and our featured guest! (First 4 links below)
Leave us each a comment letting us know you're following - we would love to follow you back! (Please, please do this.)
* Link up and add your blog to the list!
* Please visit and greet other Bloggers, let them know you are following and make their day!
* Grab our button if you like and share with your readers!
* Share and invite others to the Blog Hop!
* Each week one participant will be randomly chosen and featured along with the hosts!
The Meet & Greet Blog Hop will run Sunday and Mondays each week!
(Our Hosts are in different time zones. The Hop will be open long enough so each time zone is open for Sunday and Monday.)